Rush Add San Diego Date to the Clockwork Angels Tour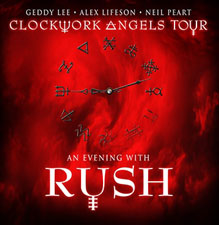 According to listings at both the VIP Nation site and Rush Music Today, as well as some reports from San Diego's KGB-FM 101, Rush have added a new date to the Clockwork Angels tour on November 21st, 2012.

The show will take place at the Valley View Casino on the 21st and tickets are set to go on-sale today.

Interestingly enough, an official announcement from Rush.Com has yet to be posted however given the information from both ticket sales sites, it seems that this new date is valid.

For a complete list of the tour dates for the Clockwork Angels tour, please visit the site's Tour Info page.

Thanks to Ed from RushIsABand for passing along the new date.
---
Related News Stories
[Rush's Clockwork Angels Tour Begins - Set List Revealed LIVE - September 7th, 2012]
[Clockwork Angels Tour - Teaser Photo Gallery - September 4th, 2012]
[Rush Bringing String Ensemble on Clockwork Angels Tour - June 18th, 2012]
[Rush Add Three New European Dates - Will Perform at the Sweden Rock Festival - May 22nd, 2012]
[Rush Add Second Toronto Show - Release European Fan Pre-Sale Information - May 15th, 2012]
[Rush Announce Initial 2013 European Tour Dates - May 14th, 2012]
[Rush Announces Clockwork Angels Tour Pre-Sale Details - Begins April 23rd - April 21st, 2012]
[Rush Clockwork Angels Concert Pre-Sale Information Now Available - April 19th, 2012]
[Rush Release Official Clockwork Angels Tour Information and Dates - April 19th, 2012]
[Clockwork Angels Tour Dates Begin to Surface - April 18th, 2012]

---