Rush Bringing String Ensemble on Clockwork Angels Tour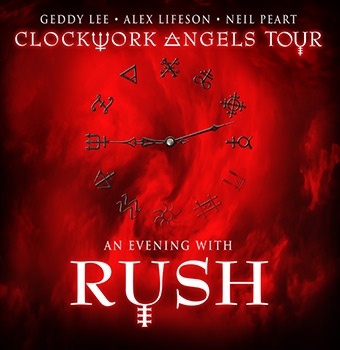 For several months now, there's been an on-going rumor that Rush would actually be touring with a full string ensemble. Given that several tracks from Clockwork Angels had some orchestral strings added to it only served to fuel the rumor. Then, last week, Neil Peart hinted at the inclusion of strings on tour during his Sirius XM interview.

Today, the rumors have been confirmed from an article at Billboard.Com:

With "Clockwork Angels," its first new album in five years, just out, Rush is planning a tour that will surprise many of the Canadian trio's fans.

"Our intention is to take strings out on the road," guitarist Alex Lifeson tells Billboard.com. Orchestrations, arranged by David Campbell, feature on several of "Clockwork Angels' " tracks, and Lifeson says Rush will employ a small string ensemble, likely eight to 10 pieces, to recreate those pieces and to be added to some of Rush's older material. "It's just something different for us, and I can't wait to hear what it sounds like."

Even though Rush plan on touring with the string ensemble, the set list has not been finalized as of yet:

"The set list is quite fluid these days," Lifeson reports. "We're dropping and replacing songs constantly, and that's the way it always goes before we get into rehearsals. There's a great deal of pressure on us now to do the whole record, which we don't anticipate. I think our intention is probably to prepare the whole thing; whether we'll do it or not we're still not sure, especially on the first leg of the tour. There's still a lot of older stuff we want to do, and we've got some great songs lined up from the past. We'd be loathe to drop them to add more of 'Clockwork Angels,' at least on the first leg. It's always nice to switch up on the second leg and make it a little different."

You can check out the entire article via this LINK.

Thanks to Ed from RushIsABand for passing along the news.
---
Related News Stories
[Rush Add Three New European Dates - Will Perform at the Sweden Rock Festival - May 22nd, 2012]
[Rush Add Second Toronto Show - Release European Fan Pre-Sale Information - May 15th, 2012]
[Rush Announce Initial 2013 European Tour Dates - May 14th, 2012]
[Rush Announces Clockwork Angels Tour Pre-Sale Details - Begins April 23rd - April 21st, 2012]
[Rush Clockwork Angels Concert Pre-Sale Information Now Available - April 19th, 2012]
[Rush Release Official Clockwork Angels Tour Information and Dates - April 19th, 2012]
[Clockwork Angels Tour Dates Begin to Surface - April 18th, 2012]

---