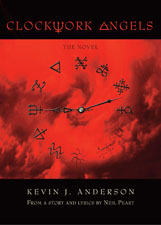 The novelization of Clockwork Angels, penned by Kevin J. Anderson and Neil Peart, entered the New York Times Best Seller List - Hard Cover Fiction at the #18 spot.

The novel, which is available in hard cover and audio-book formats, can also be previewed at this location.

To order your copy of Clockwork Angels: The Novel, click HERE.

Thanks to Ed from RushIsABand for the news.
---
Related News Stories
[
Roadrunner Records Interview with Clockwork Angels Novel Author Kevin J. Anderson
- September 4, 2012]
[
Clockwork Angels: The Novel Released Today
- September 3, 2012]
[
Clockwork Angels: The Novel World Premiere Launch Coming August 23rd
- August 10, 2012]
[
Clockwork Angels Novel Preview Booklet Now Available for Download - New Artwork Revealed
- August 9, 2012]
[
Clockwork Angels: The Novel Special Autographed / Numbered Editions
- July 23, 2012]
[
Clockwork Angels: The Novel Official Press Release - Neil Peart to Narrate the Audiobook
- May 29, 2012]
[
Clockwork Angels Novel Artwork Revealed
- May 11, 2012]
[
Clockwork Angels Novel Now Available for Pre-Order
- March 19, 2012]
[
Novelization of Rush's Clockwork Angels to be Penned by Kevin J. Anderson
- February 09, 2012]
---