Roadrunner Records Interview with Clockwork Angels Novel Author Kevin J. Anderson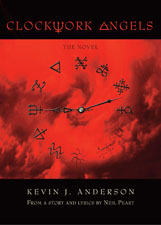 Roadrunner records have just posted an interview with author Kevin J. Anderson about his novelization of Rush's Clockwork Angels album. Not surprisingly, Kevin discusses in length how he and Neil Peart arrived at the idea of a novelization behind the album's lyrics:

How much input did Neil Peart have into the Clockwork Angels novel? Did you mail him chapters back and forth, or did you two come up with an outline together and then you did everything else yourself?

Well, Neil approached me when he was just starting the concept for the whole album. He was interested in steampunk and he had some scenes in mind for things that later became songs. And I've written some of the stuff—in fact, he had read some of my steampunk stuff way back in the late '80s—and we were just talking about what the genre was like and about some of his characters. He had made up the villain, and he had a couple of great scenes. So we talked about some of the pieces of the story, but this was just me chatting with him about a project he was working on. And as the story developed more and more with him, he started realizing how big it was. And he started thinking about putting the whole story together and started imagining Broadway musicals and ice skating shows and all kinds of things, and then he suggested a novel.

For those who have read the novel, you know that Kevin sprinkled in Rush lyrical references throughout it (not just from Clockwork Angels):

"...they were natural. I hope they don't stick out like a sore thumb. If you're not super-familiar with Rush, you won't notice that this was an awkwardly inserted phrase to add a nod to a Rush lyric. So there's constant ones in there, even subtle ones that I don't think people will spot, like when the Watchmaker is fixing one of the mechanical parts of the Clockwork Angels and he says "Animate," there's a Rush song called "Animate." It's just a word, but I know I used that word because it was from Rush."

Check out the entire interview via this LINK.

And to order your copy of Clockwork Angels: The Novel, click HERE.
---
Related News Stories
[
Clockwork Angels: The Novel Released Today
- September 3, 2012]
[
Clockwork Angels: The Novel World Premiere Launch Coming August 23rd
- August 10, 2012]
[
Clockwork Angels Novel Preview Booklet Now Available for Download - New Artwork Revealed
- August 9, 2012]
[
Clockwork Angels: The Novel Special Autographed / Numbered Editions
- July 23, 2012]
[
Clockwork Angels: The Novel Official Press Release - Neil Peart to Narrate the Audiobook
- May 29, 2012]
[
Clockwork Angels Novel Artwork Revealed
- May 11, 2012]
[
Clockwork Angels Novel Now Available for Pre-Order
- March 19, 2012]
[
Novelization of Rush's Clockwork Angels to be Penned by Kevin J. Anderson
- February 09, 2012]
---