Author VIP Editions of Clockwork Angels: The Novel Up for Auction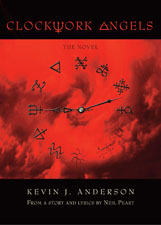 Kevin J. Anderson, the author of Clockwork Angels: The Novel is auctioning off two "ultra-rare" copies of the novel.

The copies for sale are #107 and #110 (out of 150). Neither copy were ever made available for sale to the public, are signed by both Kevin and Neil Peart, and come directly from Kevin J. Anderson himself. Also, similar to the 'Silver Edition' novels offered up a few months back, these novels come in beautiful slip-covers and arrive shrink-wrapped.

Kevin is auctioning off these rare novels to help support his friend Sean who is battling Brittle Bone Disease. For complete information on this auction, please click HERE.

In addition to the auction, those willing to donate to the cause may do so via PayPal by using this email address: 1littlelight2112@gmail.com.

Thanks to Tracy Mangum for providing the information.
---