Clockwork Angels Named Top Album of 2012 by T-MAK World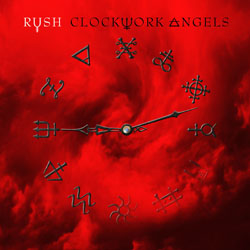 In their annual ranking of the top albums of the year, T-MAK World, Toronto's site for music, movies and culture has named Rush's Clockwork Angels as the top album of 2012.

Here's what the site had to say about Rush's latest release:

Hometown heroes Rush keep on going strong - not only did they get inducted into the Rock and Roll Hall of Fame in 2012 they also released one of the best records of their career. Clockwork Angels is the band at its hard rocking best. The record is a concept album based on a steampunk world full of alchemy and magic. Society is ruled by the loving Watchmaker that dictates every move of his citizens. The Watchmaker has an opponent known as The Anarchist who likes to disrupt the perfect order of the world. In essence the album (and subsequent book) is based on a classic struggle of order and chaos and questions which one is better for humanity.

Bassist/Vocalist Geddy Lee, guitarist Alex Lifeson, and drummer Neil Peart are widely regarded as the best in the world (or near the top of all "best of" lists) at their respective instruments but together they are so tight on this record its incredible. It's hard to pick highlight songs on this album so just listen to it all end to end (many times). There was no doubt for me what my favourite record of the year was from the first moment I heard it and stands along Moving Pictures as exclamation points in Rush's career. Rush played Toronto on October 14 and 16 2012 and you can read a review of that show here.

Clockwork Angels beat out Neil Young & Crazy Horse's Psychedelic Pill at the #2 spot and Van Halen's A Different Kind of Truth coming in at #3.

Click HERE to view the entire Top 10 list.

Thanks to Terry Makedon for passing along the news.
---