Rush to Release iBook for 2112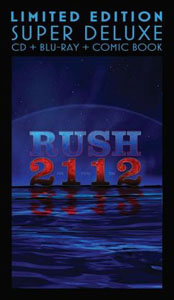 Rush have just announced that, in addition to the Deluxe reissue of their classic album 2112 in 5.1, they will also be releasing their first-ever ibook. From the announcement:

On December 18, 2012, RUSH will release their first ever iBook for 2112. The iBook will consist of unpublished pictures, black and white ink art and pencil sketches for every comic book cell, and preview music for the newly remastered Mastered for iTunes (mFit) audio of 2112 with 3 bonus live tracks.

Originally released in 1976, 2112 was the creative and commercial breakthrough album. With lyrics written by Neil Peart, 2112 kicks off with the ambitious seven-suite title track (originally side one), set in a futuristic world run by the "Priests of the Temples of Syrinx" who regulate "every single facet of every life," which includes books, music, work and play. "2112" conveys the story of humanity's instinctual, inner need for one's free will.

iBook content includes:

• 40-page comic book by story artist Tom Hodges ("Star Wars -The Clone Wars," The Simpson's "Treehouse of Horrors #17?)
• Unpublished pictures
• Black and white ink art and pencil sketches for every comic book cell
• Preview of the remastered audio of 2112
• Expanded artwork, liner notes, lyrics and unreleased photos
• Brand new liner notes by David Fricke, Rolling Stone

There are three versions of the Deluxe edition of 2112 available for pre-order on Amazon.com:


2112 [CD + Audio DVD Deluxe Edition] - $19.88

2112 [CD + Audio Blu-Ray SUPER Deluxe Edition] - $56.82

All versions of 2112 will be released on December 18th.

---
Related News Stories
[Deluxe Reissue of 2112 Update - Pre-Ordering Now Available - November 4th, 2012]
[Deluxe Reissue of 2112 Coming December 18th - October 24th, 2012]

---