Rush for Robe on Clockwork Angels Lighting Feature - 2013 North American Tour Confirmed?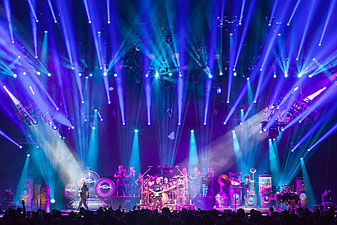 A new article from Robe Lighting regarding the extensive lighting arrangements for Rush's Clockwork Angels tour was just published on the Robe website. The article discusses Rush's lighting and show designer Howard Ungerleider's concepts for the show and how it was accomplished by ROBE:

Toronto-based Howard explains that they let him "Run wild" with the concepts and are extremely supportive of his ideas, as well as very appreciative of the 'art' in lighting. With this creative freedom, he has evolved many spectacular and surreal spaces in which they have performed, allowing – by now – several generations of fans to enjoy their music live.

However, the most intriguing aspect of this news story is the apparent confirmation that there will be a North American tour in 2013. The article ends with the following statement:

The tour continues in the U.S. into Spring 2013 and is then scheduled to visit Europe before returning to North America for the rest of the summer, when it will have been on the road for a year.

Given that the band is scheduled to perform in Europe in May of 2013, it's seeming more and more likely that additional North American dates will be announced soon. Some speculation and reports suggest that there will be dates both before and after the European leg and the statement above seems to align with those speculations.

Hopefully the band will make a formal announcement soon.

You can read the entire article via this LINK.

Thanks to Eric from Power Windows for the article.

---