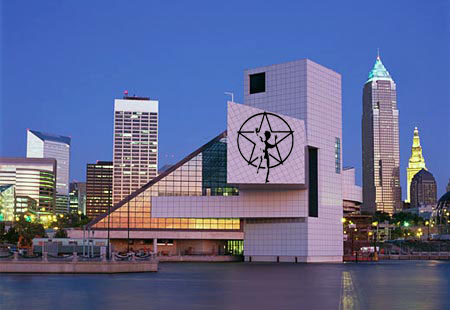 Update (12/12/2012): Smashing Pumpkin's frontman Billy Corgan comments on Rush's induction into the Rock & Roll Hall of Fame. Click HERE to view the video. Thanks Steve Pavlopoulos!

---

Update (8:00pm EST): Click HERE for the video of the induction announcement.

---

Update (4:45pm EST): Geddy Lee discusses the induction during a phone interview with Rolling Stone Magazine.

---

Update (4:30pm EST): Alex Lifeson commented on the induction during a phone interview:

"First of all, it's all water under the bridge and it was a very tiny bridge," he said in a phone interview from his home in Toronto. "I think our fans are more upset than we were because they feel a real bond to this band and it's been an important part of their lives in some form, and to be snubbed was snubbing them at the same time."

"Perhaps there were times when I thought if this ever happens I'm not going to bother going, or who cares or whatever, but at the end of the day positive karma is an important thing and this is an important thing to a lot of our fans and people we know."

---

Update (3:00pm EST): Rush have just posted their official statement regarding the induction:

"We are honored to be inducted into the Rock and Roll Hall of Fame. The 3 of us are especially appreciative of our loyal fans whose support and dedication has gone a long way to making this possible. P.S. And special thanks to our moms for voting 6000 times!" – Alex, Geddy, & Neil

---

The first time is the charm, apparently. After finally being nominated for the Rock & Roll Hall of Fame earlier this year, Rush was officially selected for induction into the Hall's Class of 2013 as announced during a ceremony at the Nokia Theatre L.A. Live in Los Angeles. The Red Hot Chili Peppers bassist Flea announced all of the performers who made up the Rock Hall's Class of 2013.

In addition to Rush, the late Donna Summer, Public Enemy, Heart, Randy Newman, Quincy Jones, Lou Adler and Albert King were also inducted. For more information, click here. A video of the induction announcement is expected to be online later today. We'll have links posted here once they become available.

Geddy Lee commented on the induction:

"It's a terrific honor and we'll show up smiling," Rush's singer and bassist, Geddy Lee, tells Rolling Stone. "It made my mom happy, so that's worth it." Lee is especially happy for Rush's army of hardcore fans. "It was a cause they championed," he says. "I'm very relieved for them and we share this honor with them, for sure."

The official induction ceremony will take place April 28, 2013 with tickets going on sale January 25th.

The history of Rush and the Rock & Roll Hall of Fame dates back to 1999, when the band was first eligible for induction into the Hall (25 years after the release of their first album). With each year that passed without a nomination, Rush fans the world-over voiced their outrage louder and louder.

As the years went by, many musicians and critics alike also voiced their bewilderment at Rush's exclusion from the Hall of Fame. However, along with the camp of fans and others whom insisted that Rush deserved to be inducted into the Hall of Fame, there were others who were just fine with Rush's exclusion. "Rush is too good for the Hall of Fame" became the war cry of that faction of fans, and with good cause. For years, the induction committee not only snubbed Rush, but inducted other so-called "Rock & Roll" acts that arguably did not deserve the status of "Hall of Famer", let alone being labeled as "Rock & Roll".

However, whether you believe that Rush belongs in the Hall or not, the point is now moot. They're in and we congratulate them on this latest accolade and recognition. If nothing else, the Rock & Roll Hall of Fame just added a little more class to their establishment.
Congratulations Geddy, Alex and Neil and all those associated with the mighty ROCK band RUSH.
---
Related News Stories
[Rock & Roll Hall of Fame 2013 Inductees to be Announced on December 11th - December 5th, 2012]
[Geddy Lee and Alex Lifeson Comment on Rush's Nomination into the Rock & Roll Hall of Fame - October 22nd, 2012]
[Rush Finally Nominated for Induction into the Rock & Roll Hall of Fame - October 10th, 2012]
---