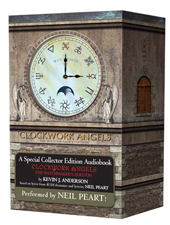 Brilliance Audio has just announced that a special "Watchmaker's" edition of Clockwork Angels: The Novel will be released on March 1st, 2013.

From the website:

Clockwork Angels: The Watchmaker's Edition features the unabridged audiobook edition of Clockwork Angels, a novel by bestselling science fiction author Kevin J. Anderson, based on the new concept album by the legendary rock band Rush. This compelling steampunk adventure is read by Rush drummer and lyricist Neil Peart, who first conceived the story for the band's latest release. This special edition features the complete, unabridged audiobook packaged in a unique, working upright clock tower designed by the band's album cover artist, Hugh Syme. Intricately themed and largely handmade, this is a beautiful and functional design piece that will be a must-have for Rush fans and steampunkers alike.

There was some confusion surrounding the release date of this item as several online stores indicated that the release date had already passed. Author Kevin J. Anderson, however, tweeted and confirmed that the release date was March 1st of next year. Kevin also tweeted that he and artist Hugh Syme created "...a special companion booklet..." for this edition of the novel.

You can pre-order Clockwork Angels: The Watchmaker's Edition via this LINK.

Thanks to Eric from Power Windows for the news.
---