Neil Peart Jet City Interview Now Online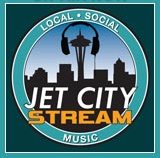 Jet City, the Seattle-based digital radio station, has posted a new interview with Neil Peart online at this location. The inteview was conducted by Michael Shrieve for his Notes from the Field program.

This 40+ minute interview, which was originally conducted backstage at Seattle's Key Arena on November 13th during a stop on the band's Clockwork Angels Tour, centers around a number of topics including, of course, drumming, books and more.

You can listen to the entire interview at this LINK.

Thanks to RushFanForever for passing along the news.

---