Original Geddy Lee Portrait Available for Sale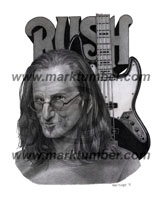 Artist Mark Tumber recently contacted me, sharing an original piece of art that he created featuring Geddy Lee, the classic RUSH logo and Geddy's Fender Jazz Bass. Mark is making the original drawing available for sale, as well as prints.

From Mark:

I recently finished drawing a photo-realistic rendering of Geddy Lee (see watermarked image). I've always been a fan of RUSH and the prowess they each have over their 'art'. This portrait clocked in at roughly 40 hours of actual drawing time. It also shows the Fender Jazz Bass that Geddy has always played & been a spokesman for.

This drawing would look great in a music room, bar or den and is the perfect gift for any RUSH fan or aspiring bass player. Geddy has a very expressive and unique visage and I'm pretty sure that I captured his 'look'. The original is 14"x17" (unframed) and is available for purchase for $800. Courier costs (if applicable) would be an additional expense.

I also have smaller 8"x10" acid-free prints of Geddy Lee. These sell for only $35 each. If shipping within Canada, the total cost is $45. If shipping to America, the cost is $55. These are a standard size and can easily be framed in an 11"x14" frame with an 8"x10" matte opening.

If you're interested in purchasing the original artwork or one of the prints, please contact Mark directly at markdraws@hotmail.com or through his website at www.marktumber.com or his Facebook Page.
---