Rush: Headlong Flight Single Update: Cover Art Revealed - Download Available on April 24th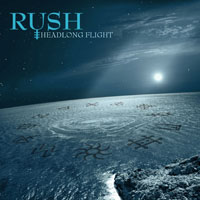 Update (12:40pm EST): According to Darren Reddick from Planet Rock; a UK digital radio station, has just announced that he will be airing the the world premiere of Headlong Flight at approximately 2:12PM (9:12AM EST) on April 19th. Thanks RIAB!

---

Rush's first (third) single from their upcoming Clockwork Angels album Headlong Flight will officially hit the airwaves this Thursday, April 19th. Last week, the Rush community was treated to a 30-second preview trailer of the single and, now, Amazon.Com has released the official artwork for the single, with a pre-order link to download the single on April 24th.

Note that Amazon.com is listing the original release date as April 20th, even though we've received confirmation that Headlong Flight will hit the airwaves on the 19th and be available for download on the 24th.

At this time there is no word if the single will also be released as a CD single. Currently, only 'MP3' is listed as the available format on the Amazon website.

Pre-Order your copy of Headlong Flight today!

Thanks to Ed from RushIsABand for sharing the news.
---
Related News Stories
[Rush Clockwork Angels Tracklist, Trailer and Official Announcement Now Available - April 11th, 2012]
[Headlong Flight Single from Clockwork Angels Release Update - April 4th, 2012]
[Clockwork Angels Update - First New Song Title Revealed - Headlong Flight - March 28th, 2012]
[First Single from Clockwork Angels Coming Friday, March 30th? - March 15th, 2012]

---