Rush Featured in June 2012 Issue of MOJO Magazine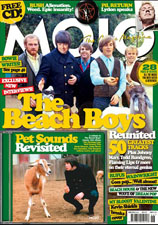 Update (05/08/2012): The entire article is now online and can be viewed HERE. Enjoy.

---

The June 2012 issue of the UK Music Magazine MOJO will contain a eight-page feature on Rush.

From the website:

RUSH: How the highbrow Canuck proggers fed on Tolkien, Ayn Rand, weed and whiskey, survived critics and personal tragedies to become "the biggest cult band in the world."

Though Rush isn't a cover-story feature, the magazine cover art does include Rush's Star Man logo and the tagline "RUSH. Alienation. Weed. Epic Insanity!".

The issue should hit the newsstands shortly. We'll also have a complete transcription of the article in the near future.

If anyone out there happens to have the issue in hand already, please let us know via the comments section below.
---