Rush Clockwork Angels Tracklist, Trailer and Official Announcement Now Available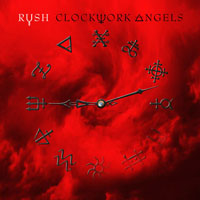 Update (2:10pm EST): A new publicity photo of Rush has now been posted along with the Marketwire Press Release for the new album. Thanks RIAB!

---

Update (1:20pm EST): Check out this article from Prog Magazine - Rush New Album Exclusive. From the article: "...on one song, The Wreckers, Lee and Lifeson swapped over instruments during the writing sessions..."

---

Update (11:40am EST): Rush.Com has been re-skinned with new artwork to celebrate the official announcement of the release of Clockwork Angels. The band also posted the following about the forthcoming album:

CELEBRATED ROCK TRIO'S FIRST STUDIO ALBUM IN FIVE YEARS SET TO ARRIVE ON JUNE 12TH

NEW SINGLE "HEADLONG FLIGHT" LANDS AT ROCK RADIO ON APRIL 19TH

Rush has unveiled details of its highly anticipated, new album, "CLOCKWORK ANGELS." This is the first new collection of original material in over five years and their first studio release via Anthem/Roadrunner records. "CLOCKWORK ANGELS," the band's 20th studio album, will be released on June 12th.

The recording of "CLOCKWORK ANGELS" began in April 2010 with Grammy Award winning producer Nick Raskulinecz (Foo Fighters, Deftones) – who also collaborated with the band on their last studio album, 2007's "SNAKES & ARROWS." Rush co-produced both records. The first two songs, "Caravan" and "BU2B," were completed during that first session at Nashville's Blackbird studios and performed nightly during the wildly successful Time Machine Tour, which ran from June 2010 to June 2011. Work on "CLOCKWORK ANGELS" resumed in the fall of 2011 at Revolution Recording in Toronto after the tour's finale, with additional strings (arranged by David Campbell) recorded at Hollywood's Ocean Way Studios earlier this year.

Lyrically, "CLOCKWORK ANGELS" chronicles a young man's quest across a lavish and colorful world of steampunk and alchemy as he attempts to follow his dreams. The story features lost cities, pirates, anarchists, an exotic carnival, and a rigid Watchmaker who imposes precision on every aspect of daily life. The novelization of "CLOCKWORK ANGELS" is being written by science fiction writer Kevin J. Anderson in collaboration with Rush drummer and lyricist Neil Peart.

Rush will herald the release of "CLOCKWORK ANGELS" with a new single "Headlong Flight" landing at rock radio on April 19th. Details of a full-scale North American tour to support the new album will be announced shortly. - Rush.com, April 11, 2012

---

Billboard Magazine has just posted an official announcement regarding the release (now set for June 2012) of Rush's forthcoming album Clockwork Angels. The announcement includes the complete tracklist for the album (12 songs in all):

1. Caravan
2. BU2B
3. Clockwork Angels
4. The Anarchist
5. Carnies
6. Halo Effect
7. Seven Cities Of Gold
8. The Wreckers
9. Headlong Flight
10. BU2B2
11. Wish Them Well
12. The Garden

There's also a trailer for the album which includes a preview of the first single Headlong Flight:

---

---

Finally, according to the announcement, Clockwork Angels will be released on June 12th and not May 29th as originally expected.

Read the entire announcement at this LINK.

You can also now pre-order Clockwork Angels from Amazon.Com once again. The current price is $19.61 which seems to imply that the CD may be packaged with a 5.1 DVD version as well. More news on that potential offering as it becomes available.
---
Related News Stories
[Headlong Flight Single from Clockwork Angels Release Update - April 4th, 2012]
[Rush Clockwork Angels Album Cover and Tour Book Artwork Revealed? - April 3rd, 2012]
[Clockwork Angels Update - First New Song Title Revealed - Headlong Flight - March 28th, 2012]
[First Single from Clockwork Angels Coming Friday, March 30th? - March 15th, 2012]
[Clockwork Angels Release Date: May 29th, 2012 - March 2nd, 2012]
[Clockwork Angels Due Out in May According to PROG Magazine - February 20th, 2012]
[It's A Wrap: Rush Finish Recording Clockwork Angels - December 20th, 2011]
[New Guitar World Interview with Alex Lifeson - Talks Clockwork Angels - December 13th, 2011]
[New Geddy Lee Interview With Billboard Magazine - Update on Clockwork Angels - December 5th, 2011]
[Geddy Lee Update on Clockwork Angels - October 29th, 2011]
[Clockwork Angels Update from Rush Producer Nick Raskulinecz - September 21st, 2011]

---