Rush Receive Revolver's Ronnie James Dio Lifetime Achievement Award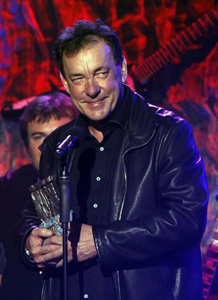 Last month we let you know that Rush was up for Revolver Magazine's Ronnie James Dio Lifetime Achivement Award. The ceremony took place last night and Neil Peart was in attendance to accept the award.

From Ultimate Classic Rock:

After giving a plug to the Ronnie James Dio Stand Up and Shout Cancer Fund, Tenacious D presented the band in their typical style, with Kyle Gass and Jack Black trading lines of praise about the band. "For almost 40 years, this band has been blowing our minds and expanding everyone's definition of rock," Gass said.

"Can anyone imagine a world without 'Tom Sawyer?'" Black continued as the duo proceeded to name other Rush classics. "These songs and many others have become part of our collective DNA. They either inspired you enough to pick up an instrument and practice like hell"

To which Gass replied, "Or, let's be honest, discouraged you from even trying to approach their technical prowess."

Drummer Neil Peart was the only member of the band on hand to accept the award. Bassist/vocalist Geddy Lee was in Japan, and guitarist Alex Lifeson, who Peart claimed is "the funniest man in the world," was in Toronto.

Although known for his challenging and wordy lyrics, Peart was uncharacteristically brief and direct in his acceptance speech. He simply wanted to "express our gratitude. Our lifetimes aren't over, our achievements aren't over, so this is like 'So far, so good,' and we'll keep trying to get better. Thank you."

Below is a video of Neil's acceptance speech:

---

---

Thanks to everyone who sent in this news information!
---
Related News Stories
[Rush To Be Honored With The Ronnie James Dio Lifetime Achievement Award - March 13th, 2012]

---