Rush's Headlong Flight Now Streaming Online!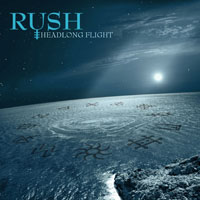 Update (04/20/2012 1:30PM EST): Check out the review of Headlong Flight from Ultimate Classic Rock - a rating of 8 out of 10!

---

Update (04/19/2012 8:00AM EST): Rush has officially released a video - with lyrics - of Headlong Flight. You can watch it below.

---

---

Update (2:20PM EST): Thanks to the efforts of readers Skip Daly and Melissa Missy Williamson, we now have a preliminary view of the lyrics behind the Headlong Flight single. Check them out HERE.

---

Rolling Stone, of all sources, has just released the FULL VERSION of Rush's new single Headlong Flight on their website.

From Rolling Stone:

"Headlong Flight," the first single from Rush's 20th studio album Clockwork Angels, is one of the trio's most hard-charging numbers in recent years. "'Headlong Flight' was one of those songs that was a joy to write and record from beginning to end," says frontman Geddy Lee. "Alex [Lifeson] and I had blast jamming in my home studio one day before the second leg of the Time Machine tour, and I did not revisit that jam until a year later. Alex and I assembled the song to be an instrumental and its original title was 'Take That Lampshade Off Yo Head!," but once we saw the lyrics Neil [Peart] had written, I knew that the spirit of the lyrics matched the instrumental perfectly and it was just a matter of making them fit and writing the melodies."

Have a listen and share your thoughts and comments below!

Thanks to Mary Palumbo and Eric from Power Windows for passing along the news.
---
Related News Stories
[Rush: Headlong Flight Single Update: Cover Art Revealed - Download Available on April 24th - April 16th, 2012]
[Rush Clockwork Angels Tracklist, Trailer and Official Announcement Now Available - April 11th, 2012]
[Headlong Flight Single from Clockwork Angels Release Update - April 4th, 2012]
[Clockwork Angels Update - First New Song Title Revealed - Headlong Flight - March 28th, 2012]
[First Single from Clockwork Angels Coming Friday, March 30th? - March 15th, 2012]

---