Rush Clockwork Angels Album Cover and Tour Book Artwork Revealed?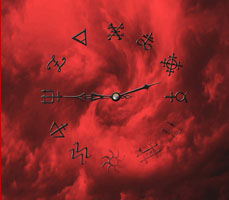 Ed from RushIsABand just let me know that he was fed what appears to be legitimate artwork for Rush's upcoming Clockwork Angels album and tour. The artwork came from a very reliable source, though it has yet to be confirmed publicly by the band or Anthem Entertainment.

The album cover depicts a clock of runes in the familiar Clockwork Angels style, and has an imposing, swirling red vortex in the background.

The possible tourbook cover is very reminiscent of some of the artwork that appeared in the Snakes & Arrows album booklet. What's more interesting about the tour book cover is the fact that a dalmation and a fire hydrant are depicted as well. Unquestionably, this is somehow tied to the Signals album which is celebrating its 30th Anniversary this year.

Could this indicate that, similar to the Time Machine Tour of 2010-11, Rush are planning on performing Signals in its entirety during the tour? Time will tell.

Hopefully Rush will confirm the album artwork soon. We'll let you known when they do.

Thanks again to Ed for passing along the news.
---
Related News Stories
[Clockwork Angels Update - First New Song Title Revealed - Headlong Flight - March 28th, 2012]
[First Single from Clockwork Angels Coming Friday, March 30th? - March 15th, 2012]
[Clockwork Angels Release Date: May 29th, 2012 - March 2nd, 2012]
[Clockwork Angels Due Out in May According to PROG Magazine - February 20th, 2012]
[It's A Wrap: Rush Finish Recording Clockwork Angels - December 20th, 2011]
[New Guitar World Interview with Alex Lifeson - Talks Clockwork Angels - December 13th, 2011]
[New Geddy Lee Interview With Billboard Magazine - Update on Clockwork Angels - December 5th, 2011]
[Geddy Lee Update on Clockwork Angels - October 29th, 2011]
[Clockwork Angels Update from Rush Producer Nick Raskulinecz - September 21st, 2011]

---