Rush's Clockwork Angels Debuts at #2 on the Billboard Top 200 Album Chart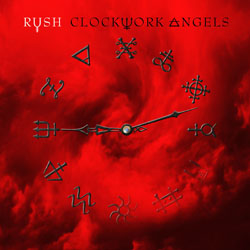 Update: (06/21/2012 9:00am EST): The official Billboard Top 200 Chart has now been updated. In addition to taking the #2 spot in the Top 200 Albums Chart, Clockwork Angels also ranked extremely well in other various categories:

Not a bad showing at all...

---

Update: (06/20/2012 10:00pm EST):More charting statistics were made available via this MarketWatch story which shows Clockwork Angels at #2 in Japan, #10 in Norway, #11 in Germany and Holland, and #21 in Switzerland.

---

Update: (06/20/2012 2:00pm EST)According to this article from the Toronto Sun, Clockwork Angels has also debuted in the #1 spot in Canada!

---

Billboard has just announced that Rush's Clockwork Angels has debuted in the #2 position on their Top 200 Album Charts. This equals the best debut Rush has ever had which last occurred back in 1993 with the release of Counterparts. Unfortunately, Rush has never achieved the #1 spot from either a debut week or subsequent week of sales.

Clockwork Angels had estimated first week sales in the U.S. of approximately 103,000 units which makes it one of the fastest-selling Rush albums in recent history. By comparison, 2007's Snakes & Arrows, which debuted at the #3 spot, had first week sales of approximately 93,000 in the U.S.

According to figures just released by SoundScan (Thanks Eric from Power Windows), here is the breakdown of the first-week sales of Clockwork Angels:

Total Sales: 104,707

LP (Vinyl): 2,361

CD: 72,007

Digital: 30,339

From the Billboard announcement:

At No. 2 on the Billboard 200, rock band Rush clocks its best sales week in 10 years as "Clockwork Angels" debuts with 103,000. The group last sold more when 2002's "Vapor Trails" bowed at No. 6 with 110,000. "Clockwork Angels" is Rush's second album to hit No. 2 following 1993's "Counterparts." A No. 1 album continues to elude the act.

An interesting fact to consider regarding the #2 spot of Clockwork Angels is the impact the sale of the Classic Rock Fan Pack edition of the album had on the Billboard ranking. Fan Pack sales were registered as United Kingdom sales (despite where they were shipped to) and, thus, would not have counted towards the Billboard rankings. However with Usher's Looking 4 Myself taking the #1 spot this week with estimated sales in the 128,000 range, it's not likely that the Fan Pack sales would have made that much of a difference in Clockwork Angels ranking.

Congratulations to the band!
---
Related News Stories
[Rush Release Clockwork Angels - To Rave Reviews - June 12th, 2012]
[Producer Nick Raskulinecz on Rush's Clockwork Angels - June 11th, 2012]
[Clockwork Angels Lyrics and Liner Notes and Album Artwork - oh my! - June 6th, 2012]
[New Audio Samples From Clockwork Angels Now Available - June 3rd, 2012]
[Inside Rush: Clockwork Angels Radio Special - June 2nd, 2012]
[Clockwork Angels Track Audio Samples Now Online - May 31st, 2012]
[Clockwork Angels Full Album Reviewed from The Digital Fix - May 9th, 2012]
[Producer Nick Raskulinecz talks Rush's Clockwork Angels - May 8th, 2012]
[Clockwork Angels Full Album Reviewed Track by Track - May 7th, 2012]
[Rush Clockwork Angels Tracklist, Trailer and Official Announcement Now Available - April 11th, 2012]
[Headlong Flight Single from Clockwork Angels Release Update - April 4th, 2012]
[Rush Clockwork Angels Album Cover and Tour Book Artwork Revealed? - April 3rd, 2012]
[Clockwork Angels Update - First New Song Title Revealed - Headlong Flight - March 28th, 2012]
[First Single from Clockwork Angels Coming Friday, March 30th? - March 15th, 2012]
[Clockwork Angels Release Date: May 29th, 2012 - March 2nd, 2012]
[Clockwork Angels Due Out in May According to PROG Magazine - February 20th, 2012]
[It's A Wrap: Rush Finish Recording Clockwork Angels - December 20th, 2011]
[New Guitar World Interview with Alex Lifeson - Talks Clockwork Angels - December 13th, 2011]
[New Geddy Lee Interview With Billboard Magazine - Update on Clockwork Angels - December 5th, 2011]
[Geddy Lee Update on Clockwork Angels - October 29th, 2011]
[Clockwork Angels Update from Rush Producer Nick Raskulinecz - September 21st, 2011]

---