"Not YYZ" iPhone / iPad App Now Available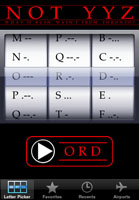 A new iPhone / iPad application called Not YYZ is now available. From iTunes:

Not YYZ is like playing musical Morse code Mad Libs with a Rush song.

The beginning of "YYZ" by Rush is based on the Morse code for YYZ, which is the IATA airport identifier for Toronto Pearson International Airport.

But what if Rush wasn't from Toronto? What would "YYZ" sound like if Rush was from your city? Not YYZ provides the answer (just in time for the 30th anniversary of Moving Pictures).

Pick any combination of three letters (other than YYZ) and Not YYZ will play it in the style of "YYZ" by Rush. If the letters match an airport identifier, the airport's name and location will appear in the player.

Search for airports you've traveled through and cities you've visited. Try your initials. Create your own rhythms using the Morse code as a guide. The possibilities are endless!**

FEATURES:
-Browsable and searchable database of over 7000 airports
-Shake to get random letters in the letter picker.
-Choosing the combination YYZ will open the Wikipedia entry for "YYZ" in Safari.

**Actually there are exactly 17575 possibilities.

Click HERE for more information.

Thanks to Eric from Power Windows for the news.