Rush: A Brief History of Time - Part VII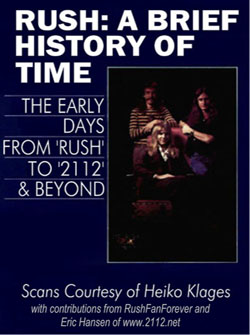 As Rush are currently progressing back in time on their Time Machine Tour, it's time once again for Cygnus-X1.Net to go back in time as well with another installment of Rush: A Brief History of Time. In this edition, we have 35 new articles and advertisements from years past, including seven entries from the 1970's and twenty-one entries from the 1980's which are primarily focused around the release of Permanent Waves. A single entry from the 1990's along with four from the 2000's and two from the current decade round out this edition.



---


We'll start off the seventh installment with the earliest article of the entire seven-part collection. Titled Artist Profile: Rush, this December 29th, 1973 entry came from RPM Weekly Magazine and portrays a very positive early look at the then budding band:


"...When Rush strike up their amps no words are necessary, for they create a total involvement situation where the music is everything..."

Exactly :-)



---


This next piece, which came from an unknown source back in May of 1974, is called a Broadcaster Playlist: Rush. It's a short introduction / review of the band's debut album and contains a nice, albeit grainy, photo of Geddy, Alex and John.



---


Sticking to 1974, we have a fairly lengthy review of the debut album which came out of the June 1974 edition of The Canadian Composer.


"...This music is about as subtle as a hit over the head with a sledgehammer - loud, proud, and take-it-or-leave-it, played with shrieking energy and some musical skill..."

Some musical skill -- critics :-)



---


The next entry is one of the earliest appearances of Rush in Billboard Magazine. Titled First Time Around: Rush, this is a quick review of the band and their debut album, citing Finding A Way, Need Some Love, In the Mood and Before and After as the best cuts.



---


In December of 1974, Rush was featured in an edition of Beetle Magazine which was one of the first major articles done on the band with Neil Peart. However a few months earlier in September of '74, Beetle Magazine posted an interview of the band and their debut album, calling them - and it - "...viable rock'n'roll...".



---


We'll close out the 70's with two more reviews of the debut album. The first, and somewhat unflattering, one comes from Circus Magazine, published in January of 1975. The second comes from Melody Maker UK Magazine which was published in March of the same year and ends with the statement "...A more than promising debut album..."



---


We'll now enter the meat of this installment with a look back at 1980 and the release of Rush's Permanent Waves. Up first is another entry from Billboard Magazine called Billboard Special Survey: Permanent Waves; a short review of the album that came out on January 26th, 1980 and names Different Strings, The Spirit of Radio and Natural Sciences as the best cuts.



---


Also published on January 26th, and coming from Cashbox USA Magazine, was another short yet positive review of Permanent Waves.



---


A positive reflection of the early success of PeW and the new musical direction Rush was heading in appeared in the February 9th, 1980 edition of RPM Weekly in a piece called Intense Early Reaction to Rush's Permanent Waves.


"...While it maintains the group's solid rock sounds, along with the usual Rush elements of progressive music and science fiction lyrics, the album shows elements of further musical and lyrical maturity from the group..."

"...Science Fiction lyrics..."? Permanent Waves? A planet of playthings indeed...



---


Also in February were two reviews of Permanent Waves; the first from New Musical Express Magazine and written by Paul Du Noyer who, though not a fan of Rush, recognizes the brilliance of PeW, and the second from Melody Maker UK written by long-time Rush scribe Steve Gett.


"...Terry Brown's production is typically commendable, and he manages to capture the sound of each individual instrument with tremendous feeling. Rush can content themselves in the knowledge that they've once again scored a winner..."

Indeed they did.



---


In March of 1980, the French periodical Rock & Folk Magazine published a review of PeW which, I'm translating this correctly, appears to be very positive. The French obviously have good taste :-)



---


Also in March comes a double entry from Sounds UK Magazine titled Sounds Readers Poll / Rush Hour. The Readers Poll selected Rush as the Band of the Year beating out the likes of Led Zeppelin, The Police and AC/DC. Readers also selected Geddy as the 7th best lead singer and 2nd best bassist (behind only Lemmy of Motorhead);, and Alex as the 4th best guitarist. Neil, not surprisingly, was named the best drummer yet shockingly, none of the members were in the top 10 of favorite Sex Object (male category). The injustice of it all!

The piece titled Rush Hour catches up with the band while they're on tour in support of PeW. It's a nice look back at the growing cult status of Rush and the impact of the immediate success of PeW.



---


The March 1980 edition of Billboard Magazine had another entry on Rush titled Rush Won't Rush Into Style Fads of Moment; a somewhat introspective look into Permanent Waves and Rush's evolution.


"...Songwriter-drummer Neil Peart takes pride in the fact that his hard rock band doesn't change with every trend that comes along.

'Influence is one thing.' starts Peart, 'but to apply artificial limits on music is dishonest. We try not to be influenced by external limitations. One of our songs may be five minutes or 12 minutes. It's all relative to the piece.'..."

Well said, Neil.



---


In April of 1980, two separate entries from Record Review USA Magazine focused on Rush. The first, titled Tight Rush is a great review of PeW written by Jon Sutherland, stating that "...Permanent Waves is well worth the time investment to memorize the licks, time changes, and evolving music that is Rush..."

The second piece called A Canadian Chart Rush, also penned by Jon Sutherland, is a nice in-depth review with Geddy Lee about the band, touring, song writing, and, of course, Permanent Waves.



---


Remaining in April, this next piece titled The Moustache That Conquered the World was published on April 5th from Sounds UK Magazine. In it, Neil Peart "...grapples with the paradox..." of Rush having a hit single and landing on top of the pop (charts).


"...No record company would touch us...yet we became the biggest band Canada has produced. It makes you a bit cynical..."

This is a great, lengthy read -- one of the best of the collection.



---


In May of 1980, the Toronto Star Magazine published a piece called Rush: Millionaire Stars of High-Tech Rock that focused primarily on the touring success of the band and what it takes to keep the tour moving.


Every travelling circus has it's crew, and this one has 25 people to set up the show every day, tear it down afterward and move it to the next town. These are the roadies: tough, rowdy and thoroughly competent. They know their jobs inside out; they know that without them - the riggers, the stagehands, the sound technicians, the lighting men, the drivers - Rush has no show at all.

No question of it at all. Another real gem.



---


June of 1980 had two reviews of Permanent Waves appear. The first one was published in the Gallery USA Magazine which realized that the melodies perhaps lacking in early Rush albums were more prevalent in PeW. The second review, titled Rush's Heavy-Metal Message Hits the Radio appeared in the June 26th, 1980 edition of everyone's favorite magazine Rolling Stone (sarcasm implied) and includes interview segments with Geddy and Neil.



---


On June 28th, 1980, Brian Harrigan through New Music News UK asked The Rush Question; a nice retrospective look at the progress of the band up through that point in time.



---


Moving into October of 1980, Circus Magazine published a piece in their October 28th edition called Rush & Foghat: Tag Team Match of '76; an interesting look back at when both bands toured together in 1976 and how their musical stylings changed as they moved into the 80's.



---


The last article/entry from 1980 came from the November 8th edition of RPM Weekly Magazine. The piece, titled Rush Identifies with International Markets takes another look at the growing popularity of the band and the explosive success and critical acceptance of Permanent Waves.


"...They just won't let up. They're always on, tour. They only get about a month of free time to themselves, and they take such pride when they're recording an album. The band is slowly but surely progressing onto superstar status..."

Super. Stars. No question about it.



---


Finally, we'll close out 1980 with three advertisements...


Advertisement I -- Advertisement II -- Advertisement III

...all related to Permanent Waves of course.



---


We'll close out the 80's with a great, in-depth piece on both Geddy Lee and Alex Lifeson. This double-article appeared in the April 1986 edition of Guitar Player Magazine. The articles, titled Geddy Lee of Rush: Rock's Leading Bassist -and- Alex Lifeson of Rush: The Evolving Art of Rock Guitar span eighteen pages and present a deep look into Geddy and Alex's guitar genius. Another one not to be missed!



---


Our singular entry from the 90's also came from Guitar Player Magazine. The article, titled Rush: Redefined is a thirteen page interview with Geddy and Alex that has some great accompanying color photos.



---


The next three entries all came out in 2002 and, accordingly, are all in connection with the release of Vapor Trails. Up first is a review of VT that appeared in the May 10th edition of the Orange County Register.


"...Indeed, Rush devotees may scratch their heads, but by the third listen the fire will be brighter than ever. Grade: A- ..."

The next entry, titled Rush Rolls Again, was an interview with both Geddy Lee and Alex Lifeson which was conducted by Jon Wiederhorn.

Later, on September 25th of 2002, another article from the Orange County Register was published. Titled Joy and Pain, All In a Rush, this entry was a review of a concert at the Staples Center in Los Angeles.



---


Shifting forward to 2009, the April edition of World Magazine (UK) featured an article entitled After The Gold Rush which was a fairly positive review of the band's compilation album Retrospective III.



---


The final two entries in this seventh installment of Rush: A Brief History of Time come from the near past; 2010 to be exact. The first entry is dubbed Grokking Rush and was published in the The Believer: The 2010 Music Issue. It's certainly an interesting read.

And last but certainly not least is Rush's Hour, a review of the band's critically acclaimed documentary Rush: Beyond the Lighted Stage.


---

And so closes the seventh installment of Rush: A Brief History of Time. Check out all of the articles and advertisements through all seven installments via this LINK.

Once again, immense thanks go out to reader Heiko Klages of Germany, reader RushFanForever and Eric Hansen from Power Windows for supplying the great articles. Thanks Guys!