Review of Neil Peart's Far and Away in the National Post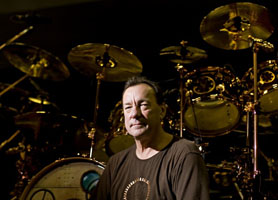 The National Post has published a review of Neil Peart's book Far and Away: A Prize Every Time titled To His Own Drum: Rush's Neil Peart Explores the World's Back Roads in Far and Away

Peart looks older than most Fly by Night fans would remember, but he's aged well, built as solid as his drums, with a baritone voice to match. As the prolific drummer of Rush, one of the most successful rock bands to come out of Canada, Peart could easily just coast on his musical legacy. But rock is only one of his passions. In May, after the release of Far and Away: A Prize Every Time, Peart will have authored five books.

He is by no means the first musician to enter the publishing world, but he's one of the few who have done it themselves, and done it well. Peart rolls his eyes when he talks about musicians using ghostwriters. "But that isn't always the case — guys like Bob Dylan, even Sting, and Stuart Coupland, their books were all done well, and done by themselves. The difference is that I had been perfecting my reading for 20 years before publishing."

Click HERE to read the entire article.

To order your copy of Far and Away: A Prize Every Time, click HERE.

Thanks to reader RushFanForever for passing along the news.