Geddy Lee On the Cover of Bass Guitar Magazine - April 2011 Edition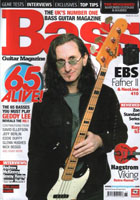 Update (02/26/2019): Here we are, almost eight years later, and I've finally posted this interview online. Click HERE to read it.

---

Geddy Lee is no stranger to the UK's Bass Guitar Magazine. Rush's front man has appeared on the cover several times in the past, including a nice 7-page spread back in 2007 (Click HERE to view that edition).

Now, Geddy's back - appearing on the cover of the April 2011 edition of the magazine. The article associated with Geddy's appearance is titled The 65 Basses You Must Play and, according to the magazine's website, Geddy reveals the No. 1 bass You Must Play

Visit www.bassguitarmagazine.com for more information and ordering instructions.

Thanks to reader Amy Lee Myer-Seaman for the news.