Neil Peart Confirmed for LA Music Academy's Drummer Reality Camp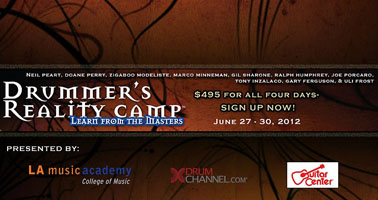 Neil Peart will be one of the panelists for the LA Music Academy's 3rd Annual Drummer Reality Camp. Neil is scheduled to be part of a roundtable discussion taking place on Friday, June 29th along with Doane Perry and other special guests.

From the Academy's website:

Drummer's Reality Camp
June 27th-30th, 2012

Brought to you by Drum Channel, Guitar Center, and LA Music Academy College of Music, the Drummer's Reality Camp gives you a chance to hang with and learn from the best drummers on the planet! We're thrilled to anounce our 2012 lineup: Neil Peart, Doane Perry, Gil Sharone, Zigaboo Modeliste, Marco Minneman, Ralph Humphrey, Joe Porcaro, Tony Inzalaco, Gary Ferguson, and Uli Frost!

The camp will run from June 27th through the 30th and will cost $495 for the entire week. For more information, click HERE. To sign up, use this LINK.

Thanks to Andy Olson for the news.
---