Neil Peart To Appear In New Ginger Baker Documentary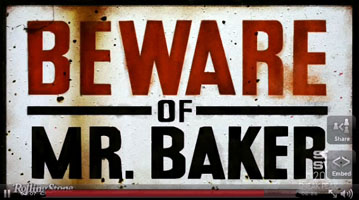 Update (03/08/2012): Another clip from the documentary is now available - this time featuring segments with Neil Peart. See below (Thanks RushFanForever).

---

According to a posting at Rolling Stone, Neil Peart will be among numerous musicians appearing in the new documentary Beware of Mr. Baker.

The documentary is about Peter Edward "Ginger" Baker, the English drummer best known for his work with Cream and Blind Faith.

From the article:

If you've got a problem with Ginger Baker, go ahead and hit him in the nose. He'd welcome it. "I ain't gonna sue you. I'm gonna hit you back," the crazy drummer tells the camera in this trailer for the new documentary Beware of Mr. Baker, which screens multiple times at SXSW in Austin beginning March 10th. Eric Clapton, Johnny Rotten, Carlos Santana, Charlie Watts and Neil Peart are just a few of the legendary musicians who attest to the musical gift of the drummer, best known for playing in Cream and Blind Faith before discovering the Afrobeat of Fela Kuti. Most of them can also vouch for Baker's ferocious approach to life. "Maybe you have to be a little mad to play the way he does," says Marky Ramone.

---

---

Second Clip Featuring Neil Peart


Thanks to RushFanForever for passing along the news.
---