Sonic Elements' XYZ: A Tribute To Rush Coming in April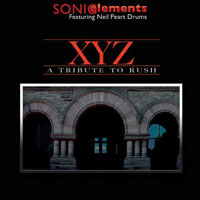 Last November, we reported that Triumph's Rik Emmett performed a cover of Red Barchetta utilizing Sonic Reality's Neil Peart Drum Samples. This was the beginnings of a larger project which is now leading up to a 5-song Tribute EP by 'fantasy' group Sonic Elements.

Sonic Elements features various musicians from around the world playing classic rock covers and originals using the library samples. XYZ: A Tribute to Rush features Neil Peart on Drums, Rik Emmett (Triumph) performing Red Barchetta, John Wesley (Porcupine Tree) performing Tom Sawyer, and more. The EP is expected to be released at the end of April.

To hear some samples, please visit Sonic Element's Soundcloud or visit their Facebook Page.

Thanks to Eric from Power Windows for passing along the news.
---
Related News Stories
[
Triumph's Rik Emmett Covers Red Barchetta
- November 25th, 2011]
---