Rush Stamp Coming from the Canada Post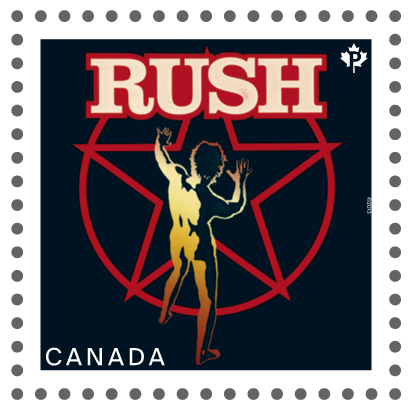 The Canadian Post, along with Rush.Com, have just announced a Canadian Recording Artist stamp series which includes a stamp honoring Rush.

From the announcement:

Ottawa (ON) – Just in time for the celebration of Canadian music and musicians at the JUNO awards next week, Canada Post is proud to give Canadians a preview of this edition of the Canadian Recording Artist stamp series, to be released in July, featuring for the first time, Canadian bands. Beau Dommage, Rush, The Guess Who and The Tragically Hip will be spotlighted in this fourth issue in a series created to honour musical legends.

"This year's series features Canadian bands that have shaped the music industry in Canada," says Jim Phillips, Director of Stamp Services for Canada Post. "Each band has achieved national acclaim, along with international radio air-time and extensive tours."

Rush
Rush has sold in excess of 40 million records worldwide, placing them third – behind the Beatles and the Rolling Stones – for the most Gold and Platinum records by a rock band. Since their debut album in 1974, the Toronto group's musical style has changed from British blues rock, utilizing synthesizers, sequencers, and electronic percussion. The band recently returned to its rock and roll roots. Rush will be the first Canadian band inducted into the Rock and Roll Hall of Fame on April 18, 2013, making them part of an elite-few Canadian artists to be so honoured.

The Canadian Recording Artists stamp series will be available from Canada Post retail outlets starting July 19 or online at canadapost.ca/shop.
---