Rush Articles on their Upcoming Rock & Roll Hall of Fame Induction Now Online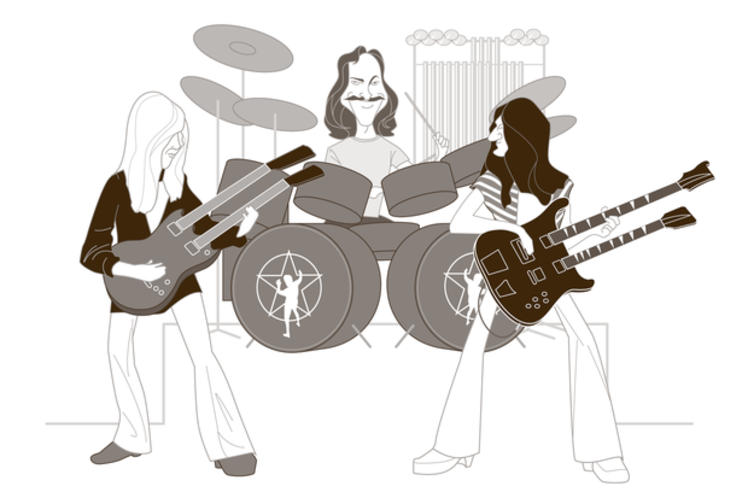 Update: (04/17/2013): The Village Voice has posted the following article titled Rush to Judgment, and the Rock Hall of Fame. Thanks Eric from Power Windows!.

---

Update: (04/16/2013): And here is another article, this time from USA Today titled Rush's Rock Hall induction: 'I'm relieved for our fans'.

---

Update: (04/16/2013): Here's a new interview/article with Geddy Lee from the Toronto Sun titled Rush frontman Geddy Lee thrilled by Rock Hall induction.

---

As we lead into Rush's long-awaited induction into the Rock & Roll Hall of Fame later this week, numerous articles, tributes and recollections have been posted online over the past few days. There were two articles published that discussed the band's feelings about being inducted into the Hall of Fame. From thespec.com comes Graciously BITTER: Alex Lifeson talks about Rush's upcoming induction into the Rock 'n' Roll Hall of Fame where Alex had this to say:

"We were eligible for 15 years and it really didn't matter to us," Lifeson told The Spectator in a phone interview from his Toronto home. "We joked about it. In fact we kind of wore it as a badge of honour that there was a core inside the committee that did not want us in there. Some said, 'Over my dead body,' literally, 'before Rush gets in here.' Which is fine, they can do whatever they want. It's their museum.

"So at the end of the day, it didn't really matter to us at all. It was kind of nice to have that controversy go away, to a point. But our fans were very insulted by it and burned by it. Now they feel vindicated by it. Certainly not all of them do. There's certainly a lot of Rush fans who think we should ignore it.

"But the proper, courteous thing to do is to go and accept it graciously, try to make everybody happy, move on and never have to deal with it again."

Cleveland.Com then posted Geddy Lee's comments in Rush: Canadian prog-rock band ran away with the first-ever fan vote (Rock and Roll Hall of Fame Class of 2013) along with commentary on how Rush fans actually assisted the band in finally getting into the Hall of Fame:

For the first time in the short history of the Rock Hall, an online fan vote equaled a single vote on the voting committee. Though the Rock Hall won't reveal total numbers, at least a quarter of those who voted checked the box next to Rush on their online ballots.

"I think the outcry or the outpouring of support of our fans was noted by the voting committee," said Lee, in a call from Beverly Hills earlier this week. The band has been eligible since 1998.

"I don't think it was enough to turn the tide, but the noise and support from our fan base made the people on the committee take notice."

An In The Studio with Redbear special with Rush is now online which offers up a retrospective look at the band's first decade:

Rush has recorded and released twenty studio albums ( and additionally about half that many as live albums and DVDs) , selling an estimated forty million copies worldwide in a four decade recording career. So you see our obvious dilemma in choosing just one album, or even just one era to feature, as we honor Rush for their long-overdue induction into the Rock and Roll Hall of Fame this week. So we polled our In the Studio Rush fans on Facebook, and while there was considerable support for practically any period of the Toronto band's history, the consensus was for the first half-dozen years starting with their 1974 debut Rush , through formative albums A Farewell to Kings , Hemispheres, 2112 , Permanent Waves , and book-ended with their masterpiece Moving Pictures in 1981, all conveniently dubbed Sector 1 by my guests Geddy Lee, Alex Lifeson, and Neil Peart. -Redbeard

And finally, RUSH: An Oral History will be available to fans on April 18th:

RUSH will be inducted into the Rock and Roll Hall of Fame on Thursday.

Their numbers are beyond impressive: 20 studio albums, eight live discs, more than 43 million records sold. RUSH ranks third for most consecutive gold or platinum studio albums by a rock band, behind only The Beatles and The Rolling Stones.

On the morning of their induction, Star Dispatches will publish RUSH: An Oral History. Star journalist Vinay Menon conducted separate and lengthy interviews with Geddy Lee, Alex Lifeson and Neil Peart. Granted full access, he also interviewed more than two dozen family members, friends, managers, agents and colleagues.

From these interviews, the band's history was stitched together.

What happened off stage? How did the band cope with the early trappings of fame? How did they nearly throw it all away? How did the need to innovate, to explore new musical terrain, cause tension in the studio? What happened after unimaginable tragedy nearly caused them to disband?

RUSH: An Oral History will be available for sale April 18th. This is RUSH in their own words. To get your copy, subscribe for only $1/week at StarDispatches.com or purchase for $2.99 at iTunes.com/stardispatches.

One of the passages from the above comes from former producer Terry Brown:

Terry Brown (producer): "I remember one night we worked until about 4 or 5 in the morning. I crashed with my feet up on the console. They covered me in tambourines and percussion instruments very gently while I was sleeping at the desk. I woke up at about 6 and everything fell off and scared the hell out of me."

We'll have more news leading up to and including Thursday's ceremonies as they are published.
---
Related News Stories
[Founding Rush Drummer John Rutsey Excluded from Rock & Roll Hall of Fame Induction - April 11th, 2013]
[Rush Donates Items for Rock & Roll Hall of Fame 2013 Inductees Exhibit - April 3rd, 2013]
[Rock & Roll Hall of Fame Induction Ceremony Ticket Information Now Available - January 19th, 2013]
[Rush Inducted into the Rock & Roll Hall of Fame Class of 2013 - December 11th, 2012]
[Rock & Roll Hall of Fame 2013 Inductees to be Announced on December 11th - December 5th, 2012]
[Geddy Lee and Alex Lifeson Comment on Rush's Nomination into the Rock & Roll Hall of Fame - October 22nd, 2012]
[Rush Finally Nominated for Induction into the Rock & Roll Hall of Fame - October 10th, 2012]
---