Rush's Limelight Featured on American Idol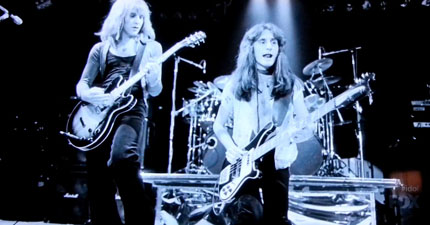 The opening sequence of tonight's episode of American Idol featured Rush's classic hit Limelight. Tonight's episode has been dubbed 'Rock Night' and it will have the remaining performers taking on classic rocks songs. It appears, however, that none of the contestants would actually be singing a Rush song.

This isn't the only Rush sighting on American Idol. Last year, on Rush Day (February 1, 2012 - or 2/1/12), David Weed of Mountain Home, Idaho attempted to sing Rush's seminal classic Tom Sawyer for the judges. Unfortunately, the results were not favorable.

A video of the opening segment is available directly at this LINK or via the embedded player below.

---

---

Note: In the event that you receive a 'blocked' message from YouTube, you can stream the video (file type: MOV) from this LOCATION. The file is LARGE (130mb) so make sure you have a speedy connection.

Thanks to my brother Mario for the head's up. I knew he watched Idol...

---
Related News Stories
[Rush Sighting on American Idol - Fitting for Rush Day :-) - February 1st, 2012]

---