Rush Sighting on Jeopardy ... Again!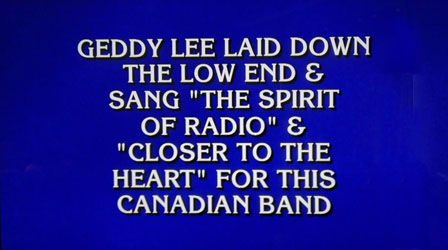 Someone at the game show Jeopardy! must really like Rush because a second reference to the band in as many months just appeared in one of the game show's questions from tonight's episode.

Last month, the answer "Neil Peart of this band gets his sound with Pro Mark NP Signature 747 drumsticks" appeared in the category of Drummer For the Band.

Tonight, in the apparent category of Bass and Vocals, the $800 answer was "Geddy Lee Laid Down the Low End & Sang "The Spirit of Radio" and "Closer to the Heart" For This Canadian Band". See the screen capture to the right.

Thanks to Martin Wade and Angelo Franco for the news and screen capture.
---
Related News Stories
[Rush Sighting on Jeopardy! - March 1st, 2013]

---