Commemorative Rush Rock & Roll Hall of Fame Induction Ceremony T-Shirt Now Available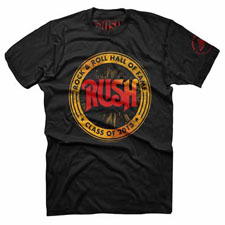 To commemorate Rush's induction into the Rock & Roll Hall of Fame, the Rush Backstage Club is now taking pre-orders for the exclusive T-shirt that was originally available during the induction ceremony at the Nokia Theater in Los Angels back on April 18th (Click HERE for photos from the event which show the T-shirt at a concession stand).

From the Backstage Club:

The Rush Hall Of Fame Black Tee features a design to commemorate RUSH's 2013 induction into the the Rock and Roll Hall of Fame. Featuring a front print that reads "Rock & Roll Hall of Fame Class of 2013" and the Rush Original logo and a Rock & Roll Hall of Fame logo printed on the right sleeve. 100% knit cotton.

The Backstage Club is projecting the ship date to be on or about May 13th. You can pre-order your shirt, which is available for $39.99 in sizes from Small to XXXLarge at this LINK.

Thanks to Ed from RushIsABand for the news.
---
Related News Stories
[Time Stand Still: Rush Inducted into the Rock & Roll Hall of Fame Tonight - April 18th, 2013]
[Rock and Roll Hall of Fame Induction Ceremony: Live Online Coverage Details - April 17th, 2013]
[Rush Articles on their Upcoming Rock & Roll Hall of Fame Induction Now Online - April 15th, 2013]
[Founding Rush Drummer John Rutsey Excluded from Rock & Roll Hall of Fame Induction - April 11th, 2013]
[Rush Donates Items for Rock & Roll Hall of Fame 2013 Inductees Exhibit - April 3rd, 2013]
[Rock & Roll Hall of Fame Induction Ceremony Ticket Information Now Available - January 19th, 2013]
[Rush Inducted into the Rock & Roll Hall of Fame Class of 2013 - December 11th, 2012]
[Rock & Roll Hall of Fame 2013 Inductees to be Announced on December 11th - December 5th, 2012]
[Geddy Lee and Alex Lifeson Comment on Rush's Nomination into the Rock & Roll Hall of Fame - October 22nd, 2012]
[Rush Finally Nominated for Induction into the Rock & Roll Hall of Fame - October 10th, 2012]
---