Rush Open Up the Final Leg of the Clockwork Angels Tour Tonight with the Alberta Flood Relief Benefit Concert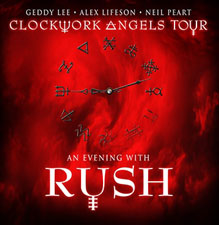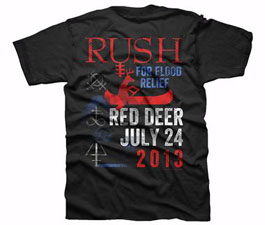 The final six dates on Rush's 2012-2013 long-running (although some would say not long enough) Clockwork Angels tour begin tonight at the Enmax Centrium in Red Deer, Alberta, Canada. This date was originally scheduled to take place at the Scotiabank Saddledome in Calgary, Alberta. However after that region suffered devastating floods earlier this year, the venue could not support the concert due to the damage it sustained during the flooding.

Rush decided to not only move the date to nearby Red Deer but also make it a Flood Relief Benefit Concert, contributing all the proceeds of the show to the relief effort.

The Rush Backstage Club has also created a special t-shirt for the show, which presumably will also be offered up at the concession stand during the show.

After tonight's concert, Rush will play one final date in Canada, at the Pepsi Live at Rogers Arena in Vancouver, British Columbia before closing out the Clockwork Angels tour with stops in Portland, Salt Lake City, Denver and finally Kansas City (MO).

The tour began on September 7th, 2012 in Manchester, New Hampshire and has spanned cities across North America and Europe since opening night. In typical fashion, Rush have not commented at all about what lies ahead for them after the tour ends on August 4th, but one thing is for sure - they've earned the break they are about to get.

For those attending these final shows, have a fantastic time!
---
Related News Stories
[Rush To Perform Alberta Flood Relief Benefit Concert - July 11th, 2013]
[Rush Begin the Final Leg of their Clockwork Angels Tour in Hershey Park Tonight - June 21st, 2013]
[Rush Perform At the Sweden Rock Festival Tonight - June 8th, 2013]
[Rush Bring Their Clockwork Angels Tour To Europe Tonight - May 22nd, 2013]
[Rush and the Jersey Shore - First Leg of the 2013 Clockwork Angels Tour Ends Tonight in Atlantic City - May 11th, 2013]
[Rush's 2013 Clockwork Angels Tour Launches Tonight - April 23rd, 2013]
[Rush Announce New Tour Date at the Festival d'été de Québec - March 15th, 2013]
[Rush Announce Second Halifax Show - July 14th - March 11th, 2013]
[Rush To Perform at the Ottawa Bluesfest on July 8th - February 28th, 2013]
[Rush Announce Initial 2013 North American Clockwork Angel Tour Dates - January 22nd, 2013]
[Rush Confirms North American Clockwork Angels Tour for 2013 - December 6th, 2012]
[Rush Clockwork Angels Tour Update: 2012 Leg Now Complete - December 3rd, 2012]
[Rush Clockwork Angels Tour Update: Second Leg Complete - November 4th, 2012]
[Rush Returns Home - Rocks Out Toronto - October 17th, 2012]
[Rush's Clockwork Angels Tour Resumes Tonight in Bridgeport, CT - October 10th, 2012]
[Rush Clockwork Angels Tour Update: First Leg Complete - October 1st, 2012]
[Alex Lifeson Talks About Clockwork Angels Set List Changes - September 17th, 2012]
[Rush Add San Diego Date to the Clockwork Angels Tour - September 10th, 2012]
[Rush's Clockwork Angels Tour Begins - Set List Revealed LIVE - September 7th, 2012]
---