The Edge Walk Angels - Six Rush Fans Plan Charity Stunt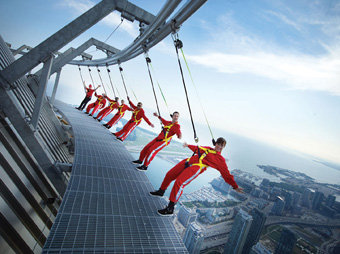 They call themselves "The Edge Walk Angels" and on October 14th, 2012, these six Rush fans from across the globe will meet in Toronto to perform what many are calling a crazy stunt - all in the name of charity. The fans, Mike Sword, Pamela Amos and David McLeod from Scotland, Ray Subject from Canada, Jennifer Ayers from the USA and Tracey Thomson from Australia, will participate in the CN Tower Edge Walk.

From the group's site:

We are "The Edge Walk Angels" - 6 'mad' 'crazy' RUSH fans with a tendency to be a little 'nuts' as described above. We are 3 Scots, a Canuck, a Merkin and an Ozzie all making our pilgrimage to Toronto to see RUSH in concert, and also raise funds for the nominated RUSH Eucon 2012 charity; The Downs Syndrome Association.

We are doing the CN Tower Edge Walk, at Toronto's iconic landmark, The CN Tower, 1100ft/356m above the ground. See the video to understand! Few have ventured and most have walked away repeating the quotes above!

It scares the bejeezus out of us all, but we all WANT to be ABLE to do it …what we needed was an incentive!! That incentive is your support and our doing it for charity.

For more information on the "The Edge Walk Angels" and to make a donation to their great cause, please visit their website HERE. You can also check them out via their Facebook Page.

Thanks to Mike Sword for sharing the news.
---