Producer Nick Raskulinecz on Rush's Clockwork Angels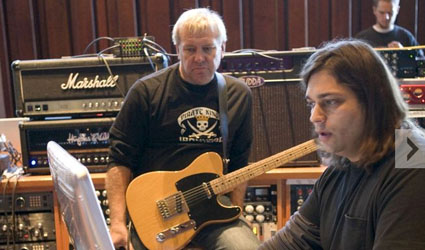 Ahead of Clockwork Angels release tomorrow, MusicRadar has just posted an interview with the album's producer Nick Raskulinecz. In the interview, Nick touches upon each of the album's 12 tracks and his role as a producer:

"Part of my responsibility as a producer – the biggest part of my job, really – is to be there for the artist and to help them see their vision through," says Nick Raskulinecz. The Grammy-winning producer, who first worked with Rush on 2007's Snakes & Arrows, reconvened with the group in 2010 to begin sessions for Clockwork Angels, the sterling concept album masterpiece which will be released tomorrow, 12 June.

"This album was Rush's vision," says Raskulinecz. "It wasn't mine. I was there to make sure it was played as brilliantly as they could play it, sung as high as Geddy Lee could sing it, and have the guitar solos bring me to tears.

"I feel like we achieved all of those elements. There's so much emotion that we captured, just total from-the-gut expression. Three dudes making music – that's Rush!"

Check out the entire interview at this LINK.
---
Related News Stories
[Clockwork Angels Lyrics and Liner Notes and Album Artwork - oh my! - June 6th, 2012]
[New Audio Samples From Clockwork Angels Now Available - June 3rd, 2012]
[Inside Rush: Clockwork Angels Radio Special - June 2nd, 2012]
[Clockwork Angels Track Audio Samples Now Online - May 31st, 2012]
[Clockwork Angels Full Album Reviewed from The Digital Fix - May 9th, 2012]
[Producer Nick Raskulinecz talks Rush's Clockwork Angels - May 8th, 2012]
[Clockwork Angels Full Album Reviewed Track by Track - May 7th, 2012]
[Rush Clockwork Angels Tracklist, Trailer and Official Announcement Now Available - April 11th, 2012]
[Headlong Flight Single from Clockwork Angels Release Update - April 4th, 2012]
[Rush Clockwork Angels Album Cover and Tour Book Artwork Revealed? - April 3rd, 2012]
[Clockwork Angels Update - First New Song Title Revealed - Headlong Flight - March 28th, 2012]
[First Single from Clockwork Angels Coming Friday, March 30th? - March 15th, 2012]
[Clockwork Angels Release Date: May 29th, 2012 - March 2nd, 2012]
[Clockwork Angels Due Out in May According to PROG Magazine - February 20th, 2012]
[It's A Wrap: Rush Finish Recording Clockwork Angels - December 20th, 2011]
[New Guitar World Interview with Alex Lifeson - Talks Clockwork Angels - December 13th, 2011]
[New Geddy Lee Interview With Billboard Magazine - Update on Clockwork Angels - December 5th, 2011]
[Geddy Lee Update on Clockwork Angels - October 29th, 2011]
[Clockwork Angels Update from Rush Producer Nick Raskulinecz - September 21st, 2011]

---