Rush Clockwork Angels Interview with Jeff Woods of Q107 Toronto Now Online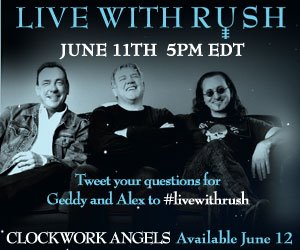 Back on June 11th, Geddy Lee and Alex Lifeson were the special guests on Jeff Wood's radio show on Q107; Toronto's Classic Rock station. That session is now available online at YouTube and can be viewed below.

The 20+ minute interview has Geddy and Alex discussing the making of Clockwork Angels, particularly how Headlong Flight morphed from an instrumental (originally titled Take That Lampshade Off Yo Head) to the final version which turned into the album's latest single.

---

---

Thanks to RushFanForever for passing along the link.
---
Related News Stories
[Rush In The Studio Live With Jeff Woods - June 11th, 2012]

---