Wish Them Well - Rush's Clockwork Angels Tour Ends Tonight in Kansas City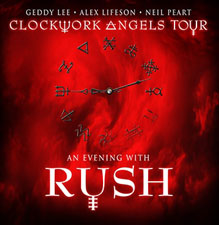 Update (August 5th): Click HERE for a great collection of photos from the final show in Kansas City.

---

It began on a warm September night in 2012 at the Verizon Wireless Arena in Manchester, New Hampshire. Rush took the stage for the first time, kicking off the world tour in support of Clockwork Angels, their critically-acclaimed concept album. And now, tonight, at the Sprint Center in Kansas City, Missouri, it all comes to an end as the band prepares to take the stage for the final time on this tour.

In all, since that September night in New England, Rush have played 73 dates (including tonight and a brief performance at the Rock & Roll Hall of Fame Induction Ceremonies earlier this year). They've traveled throughout North America/Canada, headed across the "pond" for a number of dates in Europe and even played a handful of music festivals; a true rarity for Rush.

Throughout it all, at every city, the band was met by legions of fans; RUSH fans -- the most devoted fan base in the world, bar none. Their roars of approval fueling these three humble musicians, song after song, night after night. And even when things didn't go quite as planned, be it a rain-shortened show, a flooded venue or a technical gaff or three, Geddy Lee, Alex Lifeson and Neil Peart brushed off each situation and continued to do what they do best - entertain while making "modern music".

Neil Peart once said that the only thing worse than touring is NOT touring. I suspect that sentiment was more reflective of Neil's feelings in the past than it is today. Based on the thousands of pictures taken by hundreds of fans across the globe during this tour, it seems evident that Neil along with his bandmates were genuinely having the absolute time of their life.

"Now it's come to this."

The end of the tour is upon Rush - and their fans. What lies ahead is truly the "Undiscovered Country" - the future. True to their form, the band has made absolutely no plans beyond this tour, save for the release of the Clockwork Angels Tour DVD as well as their next Box Set and Vapor Trails Remix all due later this year. The only plans they've truly made is to enjoy a well-deserved break.

Frankly, after all Rush has done for their fans over the years, I can see no better way of celebrating their 40th anniversary in 2014 by letting them take the year off. So join me in congratulating Rush on another successful tour; one that few fans will soon forget.

Wish them well until R41, or perhaps R42 is upon us.
---
Related News Stories
[Rush Open Up the Final Leg of the Clockwork Angels Tour Tonight with the Alberta Flood Relief Benefit Concert - July 24th, 2013]
[Rush To Perform Alberta Flood Relief Benefit Concert - July 11th, 2013]
[Rush Begin the Final Leg of their Clockwork Angels Tour in Hershey Park Tonight - June 21st, 2013]
[Rush Perform At the Sweden Rock Festival Tonight - June 8th, 2013]
[Rush Bring Their Clockwork Angels Tour To Europe Tonight - May 22nd, 2013]
[Rush and the Jersey Shore - First Leg of the 2013 Clockwork Angels Tour Ends Tonight in Atlantic City - May 11th, 2013]
[Rush's 2013 Clockwork Angels Tour Launches Tonight - April 23rd, 2013]
[Rush Announce New Tour Date at the Festival d'été de Québec - March 15th, 2013]
[Rush Announce Second Halifax Show - July 14th - March 11th, 2013]
[Rush To Perform at the Ottawa Bluesfest on July 8th - February 28th, 2013]
[Rush Announce Initial 2013 North American Clockwork Angel Tour Dates - January 22nd, 2013]
[Rush Confirms North American Clockwork Angels Tour for 2013 - December 6th, 2012]
[Rush Clockwork Angels Tour Update: 2012 Leg Now Complete - December 3rd, 2012]
[Rush Clockwork Angels Tour Update: Second Leg Complete - November 4th, 2012]
[Rush Returns Home - Rocks Out Toronto - October 17th, 2012]
[Rush's Clockwork Angels Tour Resumes Tonight in Bridgeport, CT - October 10th, 2012]
[Rush Clockwork Angels Tour Update: First Leg Complete - October 1st, 2012]
[Alex Lifeson Talks About Clockwork Angels Set List Changes - September 17th, 2012]
[Rush Add San Diego Date to the Clockwork Angels Tour - September 10th, 2012]
[Rush's Clockwork Angels Tour Begins - Set List Revealed LIVE - September 7th, 2012]
---